Tim Wins The Power Of Veto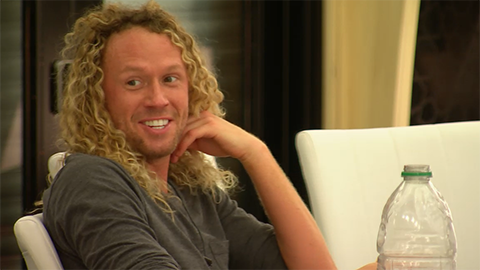 Tim won the Power of Veto. There was little talk afterwards in terms of the new plan for the week. Full Story.
BBCAN4: Daily Recaps | Preseason Interviews | Preseason Predictions
Nikki Grahame Exit Interview
After leaving second in the double eviction, Nikki expressed that she was most surprised by Tim voting against her. Full Story.
Jared Kesler Exit Interview
Jared discussed why he took Cassandra's move personally, what he would have done as HoH and what he regrets most. Full Story.
Maddy And Ramsey Are Nominated
After a long day of going back and forth, Nick and Phil decided to nominate Maddy and Ramsey instead of Jared and Kelsey. Full Story.
Kelsey Wins HoH
During the double eviction, Jared and Nikki were evicted. Kelsey went on to win her first HoH of the season. Full Story.
Cassandra Nominates Jared
At the veto ceremony, the brothers used the Power of Veto on themselves. Cassandra nominated Jared in their place. Full Story.
Phil Wins The Power Of Veto
With his game on the line, Phil came through with a win at the veto competition. However, the win came at a price. Full Story.
Cassandra Targets Nick And Phil
Cassandra decided to target Nick and Phil. She nominated the brothers next to Nikki after hearing everyone out. Full Story.
Vanessa Gives Her Word To Liz
Vanessa gave her word on her girlfriend that she would take Liz ot the Final 2 over Steve if she wins the final HoH competition. Full Story.
Steve Wins Part 2
Steve won Part 2 of the final HoH competition, earning him a spot in Part 3 against Vanessa. The two discussed their Final 2 deal. Full Story.
Skye Wheatley Interview
We caught up with BBAU's Skye Wheatley to get her thoughts on the season. Click here to watch the interview.