William Decides Not To Use The PoV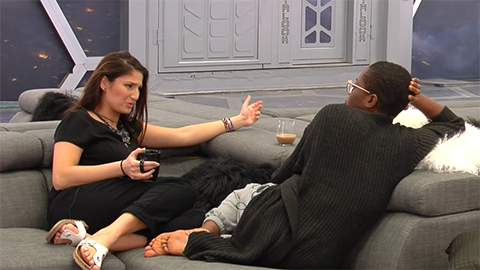 After William decided to leave Neda's nominations the same, Cassandra attempted to rally the votes. Full Story.
BBCAN5: Daily Recaps | Preseason Interviews
Cassandra Works On William
Cassandra looked to get William to use the PoV on her. William remained against it, saying Dre would then go up on the block in her place. Full Story.
William Wins The Power of Veto
With Cassandra and Jackie on the block, William came through with a win in the veto competition. He plans to leave noms the same. Full Story.
Cassandra And Jackie Are Nominated
Neda nominated Cassandra and Jackie for eviction. Throughout the day, Neda made her target clear to the houseguests. Full Story.
Dallas Is The Replacement Nominee
Dillon used the PoV on himself. Dallas went on the block in his place. The two then had a little blow up. Full Story.
Mark Chrysler Exit Interview
After being the first evicted of Big Brother Canada 5, Mark filled us in on the drama that took place just prior to the vote. Full Story.
The Vets Debate Keeping Dallas
Cassandra and Ika worked on trying to keep Dallas safe, while some of the vets had other ideas in mind. Full Story.
Morgan Willett Exit Interview
After Morgan won Big Brother: Over The Top, we got the chance to speak to her about her win over Jason. Full Story.
Jason Roy Exit Interview
Following his loss to Morgan, we got the chance to speak to Big Brother: Over The Top runner-up Jason Roy. Full Story.
Kryssie Ridolfi Exit Interview
Following her third place finish, we spoke to Kryssie about her thoughts on the Big Brother: Over The Top finale. Full Story.
Morgan Willett Wins BBOTT
After making it to the Final 3 alongside Jason and Kryssie, Morgan was crowned the winner of BBOTT. Full Story.
Morgans Advances To The Final 3
Morgan earned her spot in the Final 3 after defeating Justin in a head to head competition. Justin was then evicted. Full Story.
BBCAN4 Finale Interviews
We caught up with the cast of Big Brother Canada 4 the day after the finale to get their thoughts on the season. Full Story.