A Third Nominee Is Revealed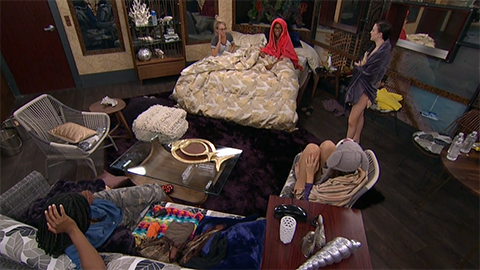 Once the live feeds launched, we learned about a third nominee, the current plan for the vote and the current alliances in the house. Full Story.
BB18: Houseguest Bios
BBCAN4 Finale Interviews
We caught up with the cast of Big Brother Canada 4 the day after the finale to get their thoughts on the season. Full Story.
Nick Wins The Power Of Veto
After winning HoH, Nick won the Power of Veto. The win is expected to put an end to the game of either Cassandra or Tim. Full Story.
Nick Wins HoH
Following Joel's eviction, Nick went on to win HoH. The plan remained to target Cassandra unless she wins the PoV. Full Story.
Nikki Grahame Exit Interview
After leaving second in the double eviction, Nikki expressed that she was most surprised by Tim voting against her. Full Story.
Jared Kesler Exit Interview
Jared discussed why he took Cassandra's move personally, what he would have done as HoH and what he regrets most. Full Story.
The Voters Reach A Decision
After a couple of days of going over their options, the voters decided to offer Cassandra a deal in order to keep her safe this week. Full Story.
The Voters Consider Keeping Cass
Kelsey approached the brothers about keeping Cassandra. While they were very much against it, much discussion was had. Full Story.
Joel Is The Replacement Nominee
Tim used the Power of Veto on himself. Joel was nominated in his place. Discussions about the vote then took place. Full Story.
Vanessa Gives Her Word To Liz
Vanessa gave her word on her girlfriend that she would take Liz ot the Final 2 over Steve if she wins the final HoH competition. Full Story.
Skye Wheatley Interview
We caught up with BBAU's Skye Wheatley to get her thoughts on the season. Click here to watch the interview.